Signature Calming Duo
The SEREKO Signature Calming Duo helps to improve mental serenity, both externally and internally. Stress reduction offers long-term advantages such as diminishing cortisol levels, boosting serotonin, and regulating neurotransmitters - all of which translate to glowing skin.
Plant Based

Cruelty Free

Non toxic
Serotonin is known as the "happiness hormone" because it contributes to joy and contentment. By raising serotonin concentrations, people can feel more satisfied and joyful, resulting in a happier outlook.
This Bundle contains - 2 Products:
Calming Candy Tabs - 10 Tabs
EASY ABSORPTION | MINERAL-OIL FREE | SILICONE FREE | PARABEN FREE | FRESHLY MADE | CRUELTY-FREE | SUITED FOR ALL SKIN TYPES | NON-GMO | NATURALLY-DERIVED ACTIVES | CLEAN BEAUTY
INFUSED WITH NEUROCALM (S)®
NeuroCalm (S)®, our proprietary blend (patent pending) made using sychodermatological formula, alleviates mental stress to provide a mood enhancing impact, so your skin radiates from within.
SEREKO's Calming Candy Tabs infused with NeuroCalm(I)™ improve mood and balance irregular sleep cycles by reducing stress along with enhancing skin texture, hydration, and firmness, speed up wound healing, collagen synthesis, and minimise the appearance of fine lines and wrinkles.
SEREKO's Calming Gel Pen can be used in a number of different ways. Wild Indigo, Centella Asiatica, Marnie Micro Algae, and Basil Oil are just some of the powerful elements found in the NeuroCalm(S)™ infusion. You should feel a marked shift in your disposition in just two weeks of use.
Morning/Evening Routine:
Take SEREKO's Calming Candy Tabs infused with NeuroCalm(I)TM daily to improve mood, reduce stress, enhance skin texture, hydration, and firmness, and speed up wound healing and collagen synthesis.
Use SEREKO's Calming Gel Pen infused with NeuroCalm(S)TM further to enhance the calming benefits of the candy tabs. Apply the gel pen as needed throughout the day to experience the powerful calming effects.
SEREKO's Calming Duo strives to provide a comprehensive package of stress relief and well-being, utilising effective natural components. Benefits include improved mood and skin health, faster healing of wounds and increased collagen production, all leading to a more positive attitude towards life. It works to ease your skin and your stress.
SEREKO is the epitome of the "beauty from within" philosophy. Best known for our proprietary blends of active and natural ingredients, our line of skincare is effective for a wide variety of skin issues because it goes to the heart of the matter: your state of mind. We strive to bring you tranquillity - both internally and externally.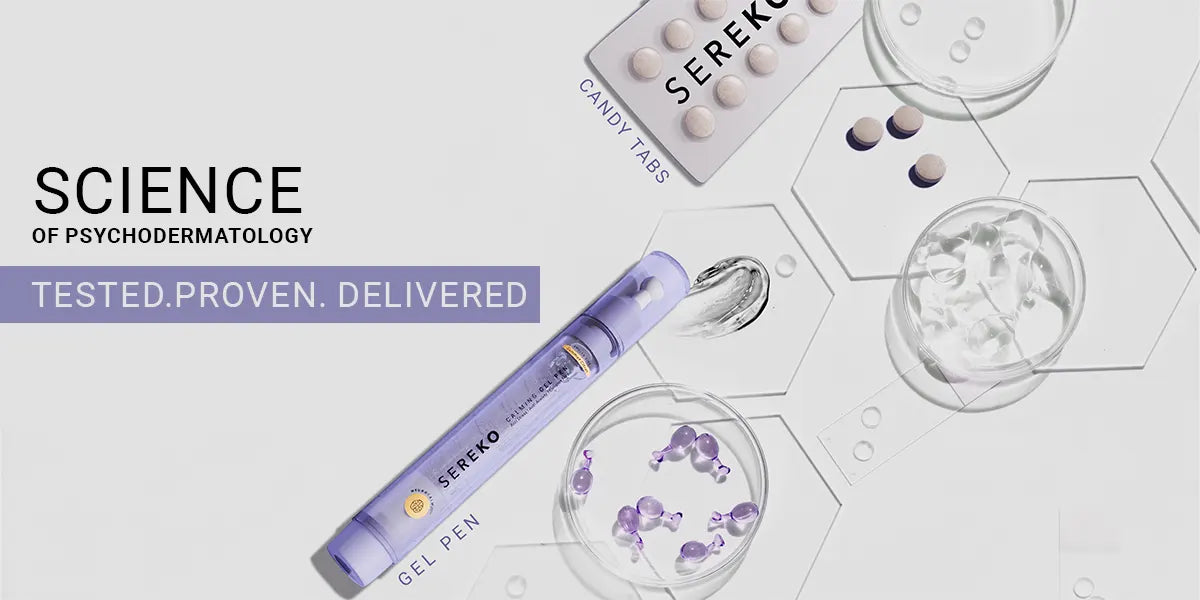 Increases Happy Hormones
Reduces Stress Hormones
Improves Skin Health
our promises
Freshly
made

Mineral oil
free

Sulphate
free

Paraben
free

Non
toxic
Recommended regime
This product has no reviews yet.