 Clarifying Classics
The SEREKO Clarifying Classics help ease the burden of stress while also purifying your skin. These products are designed to help you manage and reduce your stress levels, which can have serious consequences for your skin if left unchecked.
Plant Based

Dermatologically tested

Cruelty Free
The Clarifying Cleanser, Clarifying Toner, and Clarifying Moisturizer work together to prevent breakouts and hydrate your skin, reducing the appearance of blemishes and fine lines. Use these products regularly to achieve beautiful, healthy-looking skin that is nourished from within.
This Bundle contains - 3 Products :
Clarifying Cleanser - 100 ML
Clarifying Toner - 100 ML
Clarifying Face Moisturiser - 50 ML
FRESHLY-MADE | CRUELTY-FREE | SUITABLE FOR ALL SKIN TYPES | NON-HABIT FORMING | MINERAL-OIL FREE | SILICONE-FREE | PARABEN-FREE | NATURALLY-DERIVED ACTIVES | CLEAN BEAUTY
INFUSED WITH NEUROCALM (S)®
NeuroCalm (S)®, our proprietary blend (patent pending) made using sychodermatological formula, alleviates mental stress to provide a mood enhancing impact, so your skin radiates from within.
SEREKO Clarifying Cleanser: A facial cleanser that deeply cleanses and purifies the skin, helping to reduce the appearance of pores and prevent breakouts.
SEREKO Clarifying Toner: A toner that removes impurities and excess oil from the skin, helping to prevent breakouts and leave the skin looking clear and radiant.
SEREKO Clarifying Face Moisturiser: A lightweight moisturiser infused with potent actives that helps to balance the mood and hydrate oily and acne-prone skin, while reducing the appearance of blemishes and fine lines.
Morning Routine:
Start by cleansing your face with the SEREKO Clarifying Cleanser.
Follow up with the SEREKO Clarifying Toner to remove any remaining impurities and excess oil.
Finish off with the SEREKO Clarifying Face Moisturiser to hydrate and balance oily and acne-prone skin.
Night Routine:
Repeat the morning routine.
For an extra boost, use the SEREKO Clarifying Serum after toning and before moisturising.
SEREKO's Clarifying Classics can transform oily, troubled skin. These products clarify and purify the complexion, while active ingredients hydrate and reduce inflammation. Pores are reduced, pollutants are removed, and skin tone is improved. The range deeply cleanses, tones and moisturises to soothe both the mind and the skin, creating a beautiful, radiant glow.
SEREKO is the epitome of the "beauty from within" philosophy. Best known for our proprietary blends of active and natural ingredients, our line of skincare is effective for a wide variety of skin issues because it goes to the heart of the matter: your state of mind. We strive to bring you tranquillity - both internally and externally.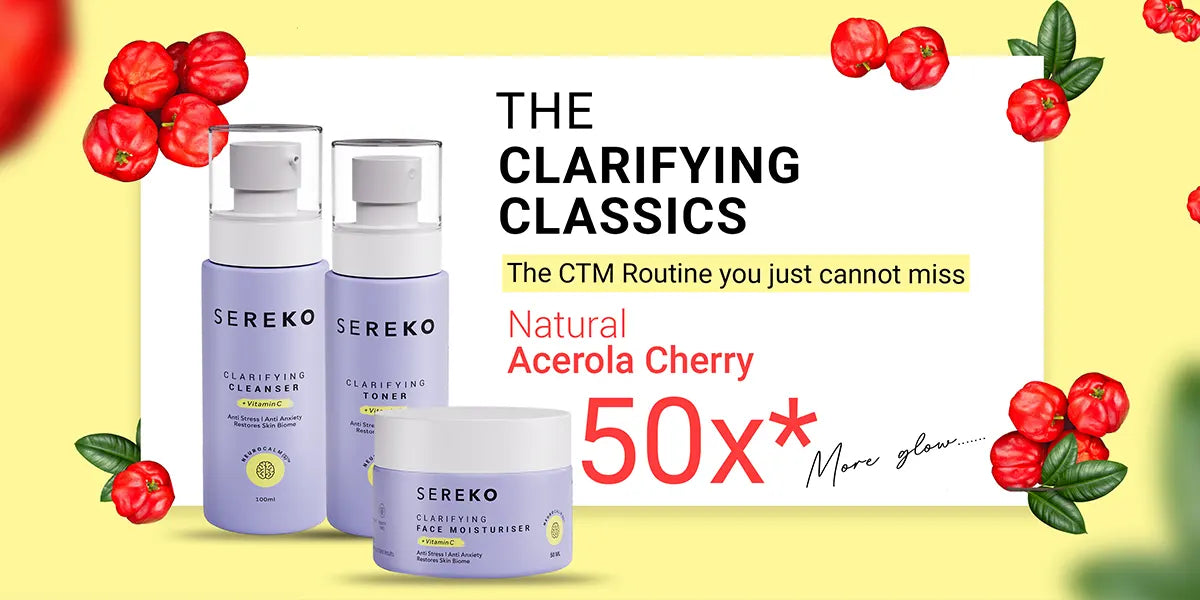 Increases Happy Hormones
Reduces Stress Hormones
Improves Skin Health
our promises
Freshly
made

Mineral oil
free

Sulphate
free

Paraben
free

Non
toxic
Recommended regime
This product has no reviews yet.