Advanced Active Trio
The SEREKO Advanced Active Trio contains our products with the highest concentration of Natural Actives: the Clarifying Face Moisturiser, Clarifying Serum and the Superglow Kit. They are designed to reduce stress levels, improve mood and restore the skin's microbiome.
Plant Based

Cruelty Free

Non toxic
Formulated from natural active ingredients, these products are ideal for anyone looking for clean beauty. Designed to increase absorption and detoxification the SEREKO Advanced Active Trio boosts collagen production and renews skin cells for a healthier complexion.
This Bundle contains - 3 Products :
Clarifying Face Moisturiser - 50 ML
The Super Glow Kit - 30 Sachets x 4 g
FRESHLY-MADE | CRUELTY-FREE | SUITABLE FOR ALL SKIN TYPES | NON-HABIT FORMING | MINERAL-OIL FREE | SILICONE-FREE | PARABEN-FREE | NATURALLY-DERIVED ACTIVES | CLEAN BEAUTY

INFUSED WITH NEUROCALM (S)®
NeuroCalm (S)®, our proprietary blend (patent pending) made using sychodermatological formula, alleviates mental stress to provide a mood enhancing impact, so your skin radiates from within.
SEREKO Clarifying Face Moisturiser: A lightweight moisturiser infused with maximum actives that helps balance and hydrate oily and acne-prone skin while reducing the appearance of blemishes and fine lines.
SEREKO Clarifying Serum: A serum that contains 15+ active ingredients to help reduce the appearance of blemishes, even out skin tone, and improve the skin's texture and radiance, while also leaving you in a good mood.
SEREKO Super Glow Kit: This AM-PM powdered supplement regimen kit contains antioxidants and components designed to enhance absorption and detoxification while promoting collagen production and skin cell renewal for healthier-looking skin.
Morning/Evening Routine:
Cleanse your face with water or use a gentle cleanser if needed.
Apply SEREKO Clarifying Serum to your face and neck, gently massaging it in.
Follow with a small amount of SEREKO Clarifying Face Moisturizer and blend in until fully absorbed.
Take one sachet (AM/PM) of SEREKO Super Glow Kit, mix it with water or your preferred beverage, and consume.
The SEREKO Advanced Active Trio is a comprehensive skincare routine with the most advanced actives that elevate the mood, address acne-prone skin, reduce blemishes and fine lines, improve skin texture and radiance, enhance absorption and detoxification, promote collagen production and skin cell renewal for healthier-looking skin.
SEREKO is the epitome of the "beauty from within" philosophy. Best known for our proprietary blends of active and natural ingredients, our line of skincare is effective for a wide variety of skin issues because it goes to the heart of the matter: your state of mind. We strive to bring you tranquillity - both internally and externally.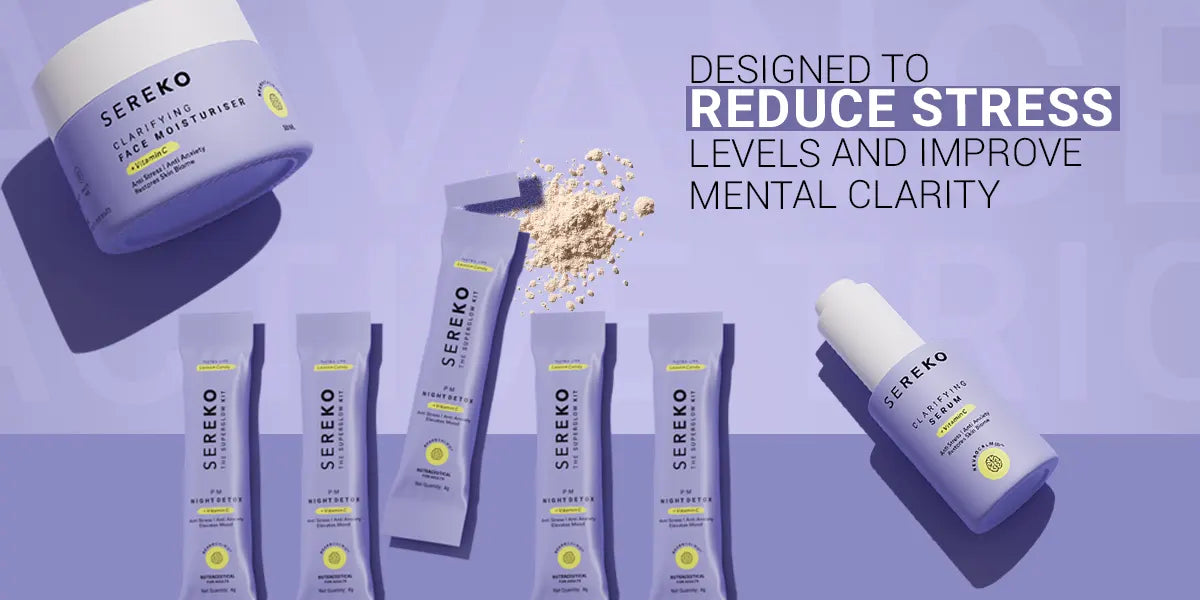 Increases Happy Hormones
Reduces Stress Hormones
Improves Skin Health
our promises
Freshly
made

Mineral oil
free

Sulphate
free

Paraben
free

Non
toxic
Recommended regime
This product has no reviews yet.